Daughter of Etti and Arik
Date of Birth: 20.9. 1982
Place of residence: Eli Sinai
Place and date of death: shot by Arab terrorists when they infiltrated the community, 2.10.2001
Place of burial: Ashkelon military cemetery
Age at time of death: 19
Survived by: parents and sisters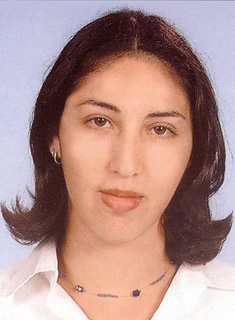 Liron was born in Ashkelon, sister to Chen and Shani, and at the age of 8 her family moved to the Gush Katif community of Eli Sinai. Liron attended the Sha'ar HaNegev elementary school in S'derot and graduated with excellence from Ashkelon's city high-school A. She elected to study communications and literature in high-school and received full marks. According to her many friends, Liron was a voracious reader and read on various subjects, and even wrote poetry and illustrated them. For two years she was part of a theater group, which she greatly enjoyed. She was open to everything around her. Her great desire to volunteer and help society influenced her choice when it came to enlisting in the IDF: she chose the track of soldier-teachers.
Liron enlisted on August 2001. During her training she showed leadership ability. She enjoyed helping her friends and served as a personal example. She completed her training successfully and was added to the course for military-teachers'. She stood out in this course as well, due to her sensitivity, caring nature and sense of responsibility toward those around her. Her commanders, who perceived these qualities in her, marked her as a candidate for the Excellent Soldier.
On October 2nd, 2001 Liron was killed with her first boyfriend when a terrorist infiltrated the community of Eli Sinai and shot every which way. She was brought to burial in the Ashkelon military cemetery. She was 19 at the time of her death.
In one of her many poems, Give Me a Day, she asks:
I have a day full of pleasure
I have a day without limitations
Give me a day to infinity; give me a day full of illusions
At the end of a battle – give a smile
When the curtain's down – give a hug
I have a day full of pleasure
And no more borders to cross
Let the flower – blossom
Let the leaf turn green
Let the grass grow
And let the sun shine from afar
Give me a day without news
Give me a day without tragedies
Give a small smile before we all sleep
Because I have a day of pleasure
A day turned from routine to a dream
Give me a day like this and don't let time advance
Leave me in yesterday, and give a small smile before we all sleep