Son of  Sonya and Mordechai
Date of Birth: 27.8.1954
Place of residence: Ganei Tal
Place and date of death: Killed by an explosive while mending the fences of Morag, 12.1.2005
Place of burial: Gush Katif cemetery
Age at time of death: 50
Survived by: wife, children, parents, and brothers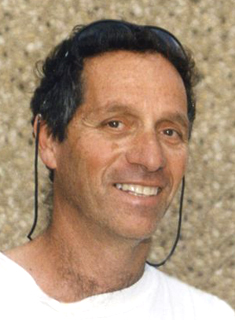 Gideon was born in Israel, eighth generation to the Jerusalem branch of the Rivlin family – who'd initiated moving outside the Jerusalem Old City walls. He was born and raised in Kibbutz Sa'ad in the south of Israel. He had three brothers: Ehud, Avner and Yoram. Gideon attended the state-religious school on the Kibbutz, and then the Ohr-Etzion religious high-school in Mircaz Shapira.
Following his high-school graduation, he enlisted to the IDF. He finished his service as education commander in the south, at the rank of major.
Gideon married Simcha, and the couple was among the founders of the community of Ganei Tal in Gush Katif in 1978. Their five children were born to them there: Nir (b. 1979), Ya'ara (b. 1981), Omer (b. 1984), Asaf (b. 1990) and Gilad (1993).
Gideon was a pioneer of our times. He was an excellent farmer and exporter, who specialized in growing and exporting flowers and peppers from his arrival in Ganei Tal until his death. Additionally, for many years he was the security coordinator in his community. From 1990 onwards, he worked as Deputy Contractor and Manager of the Southern Region in a company that set up electronic fences for the IDF. He built defensive fences throughout the country: in Kiriat Arba and the southern Hebron hills, among other places. He was involved in establishing and maintaining the fence in the Gaza Strip; he checked it daily and was nicknamed "the man of fences."
Gideon loved the Land. He was familiar with the trails and views which he daily walked, barefoot. He was a guide for knowing the land, and the field trips organizer for the Midreshet HaDarom in Gush Katif. He raised his children to love the land – and know it.
On Wednesday morning, January 12, 2005, Gideon went with some IDF soldiers to check the fence in the Morag area in southern Gush Katif. Changing from his usual custom, he didn't take his own car, rather drove in the army jeep. Near the Morag hothouses, the jeep ran over a roadside bomb that terrorists had planted. Three of the soldiers were wounded, and Gideon was killed on the spot. A short time later, the terrorists were located and shot to death by our troops.
Gideon was 50. He was buried in the Gush Katif cemetery, in a military funeral according to orders from the Major-General of the southern region. After the Expulsion from Gush Katif (August 2005) Gideon was exhumed from the Gush Katif Cemetery and reburied in the Masuot Itzhak cemetery.