Date of Birth: 11.10.1984
Place of residence: Bedolach
Place and date of death: Killed by Arab terrorists in the Gush Katif hothouses by Slav, 6.11.2002
Place of burial: Ashkelon cemetery
Age at time of death: 18
Survived by: Parents, brothers and sisters.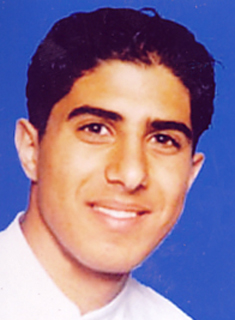 Asaf was born in Israel and raised in the Gush Katif community of Bdolach. He was his parents' second son; a brother to Shira, Dvir, Ariel, Eden and Adi.
He attended the local Neot Katif elementary school and went to high-school at the Kfar Mimon Yeshiva. During vacations he'd help his father in the Yerek Katif factory in southern Gush Katif, and at times drive trucks for him. He loved soccer and participated in local competitions, showing himself to be an excellent player.
On Wednesday morning, the 6th of November, 2002, after a warning was circulated to the effect that Arabs were planning a terror attack, employers were asked to remove the workers from fields and gather them in one location. Asaf's father and the Jewish workers weren't there, so Asaf decided to carry out the security demands. He went to the hothouses to collect the workers. He didn't know the hothouses well because he didn't work there, but he still carried out the mission
An Arab worker, who was hiding, shot at him from point blank, killing him. The terrorist then ran to a nearby factory where he killed Amos Sa'ada. Shortly thereafter, an Israeli security guard managed to kill the terrorist.
According to Asaf's mother, when Asaf went to the hothouses, he did the biggest kibbud horim (honoring your parents) possible, and actually saved her life. He took her car, thereby preventing her from being on the road where a terrorist attacked a car, trying to harm the passengers.
Asaf was 18 when he was killed, mere weeks before his longed-for enlistment to the IDF. He was survived by his parents, 3 sisters and 2 brothers. He was brought to burial at the Ashkelon cemetery.
A Torah scroll was brought to the Bdolach synagogue in his honor, in 2004. Also, his father's vegetable factory is named after him.