Monument to commemorate the fallen And for the victims of hostilities - Gush Katif
Date of Birth: 11.11.1962
Place of residence: Netzer Hazani
Place and date of death: Shot by Arab terrorists on the Kissufim road, 20.12.2002
Place of burial: Hertzlia cemetery
Age at time of death: 40
Survived by: a wife, children, parents and sisters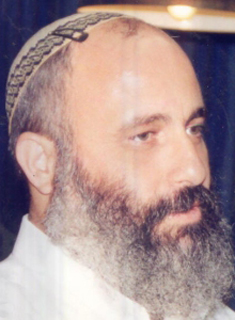 Itzhak was born in Herzlia, a brother to Rivka and Dinah. He attended the local elementary school named after Gordon, and later the Pardes Hannah Midreshiyat Noam. He then continued to the Kiriat Shmona Hesder Yeshiva where he received his teaching degree. He taught at the Noam school in Rehovot for two years, and at the Yeshivat HaDarom, also in Rehovot, for nearly a year. He simultaneously studied at the Kollel (higher Torah learning for married men) in Kfar Saba.
When he was 25 years old he married Oshrat. For two years they lived in Rehovot. Then the couple moved to Gush Katif. There, Itzhak studied rabbinical studies for 6 years in a kollel and received his ordination as a Rabbi. After some time, in 1996 Itzhak received the posting of Rabbi of the Gush Katif community of Netzer Hazani. He served in this role until his death.
The Arama family resided in Netzer Hazani with their 6 children: Keren, Matatya, Malachi, Ra'aya, Shira and Livnat.
As community rabbi, Itzhak wrote many religious essays. Among these, he published his commentary to Ecclesiastes, a book that was written in honor of Itamar Yefet, a resident of Netzer Hazani who was killed in a terrorist attack in 2000.
On Friday, December 20, 2002, Itzhak and his family were driving to a Shabbat Chatan of a relative in Afula. On the Kissufim road exiting Gush Katif, terrorists fired at a convoy of cars leaving Gush Katif. Over 400 bullets were fired at them, but only one bullet was deadly. This solitary bullet managed to hit Itzhak directly and kill him on the spot. No one else was hurt by the attack.
Rabbi Arama was 40 at the time of his death. He was survived by his parents, his wife, 6 children, and two sisters. He was laid to rest at the Herzlia cemetery.
His parents mourned him by quoting from Proverbs 4:3 " For I was a son to my father, a tender and only son before my mother" (Stone edition).
The Gush Katif rabbis and residents published a book Be'erot Itzhak in his memory which contains Rabbi Arama's manuscripts.