Memorial of IDF casualties and victims of terror attacks of Gush Katif
Daughter of Shoshana and Shlomo Malka
Date of Birth: 28.6.1970
Place of residence: Katif
Place and date of death: Shot by Arab terrorists on the Kissufim road, 2.5.2004
Place of burial: Ashkelon cemetery
Age at time of death: 33
Survived by:  her husband, parents, a brother and sisters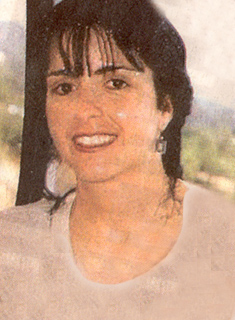 Tali was born and raised in Ashkelon. She was sister to Sigalit, Orit and Yuval. She attended the Sade Ya'acov elementary school in Emek Yizrael, where the family resided for a time, and continued to the Rogozin high-school in Ashkelon. Tali studied social work at Bar Ilan University and successfully attained her academic degree.
After marrying David Hatuel, the couple moved to the Katif community in Gush Katif. Tali worked as a social worker in the regional council of Azata and later on in the Hof Aza regional council. At the end of 1993, their daughter Hila Esther was born, in April 1995 Hadar Simcha, at the end of 1997 Roni Sarah, and lastly, at the end of 2001 Merav Rachel was born. Tali was a wonderful wife and mother, encouraging her husband in his studies. She raised her children to be friendly and warm individuals.
Tali was a dominant and outstanding individual. She was immersed in the community, and was actively involved in planning and designing the local synagogue. She led campaigns supporting the Land of Israel and its residents.
In her social work she helped many people in their time of need.
Her beauty was both inner beauty and exterior. Her inner qualities were characterized by modesty, fear of G-d, love of mankind, desire for perfection in order to add light and goodness in G-d's world.
On Sunday, the 2nd of May, 2004, in the early noon, Tali Hatuel and her four daughters drove in the family car on their way from Gush Katif to the center of the country to take part in a demonstration against the Disengagement Plan, which was being voted on that day in a Likud referendum. As they exited Gush Katif, two Arab terrorists opened fire at the car. After Tali lost control of the wheel and the car turned over, the terrorists approached the vehicle and shot Tali and her four daughters to death.
Tali was 33 at the time of her death, in her 8th month of pregnancy. She was brought to burial in the Ashkelon cemetery alongside her 4 daughters.
She was survived by her husband who'd lost his entire family, her parents, a brother and two sisters.
In a booklet published in the Hatuel's memory by the Gush Katif regional council and the Atzmona school where 3 of the girls learned, it was written about her:
"Tali – dew of life, gentleness, calmness, loving and giving… Tali was studying for her MA in social work, and said of her studies that though she was learning new things, everything appears in our Torah. And truly, in Torah classes we'd see Tali happy, beaming, with bright eyes and a smile spread across her face which grew wider with every new idea which she learned."
On August 2005, in the presence of the surviving family, Tali's sister Sigalit received Tali's MA in social work from the Ben Gurion University.