Son of  Yafa Beila and David
Date of Birth: 29.9.1983
Place of residence: Bnei Brak
Place and date of death: Killed by Arab terrorists infiltrating the Atzmona Pre-Military Yeshiva-Academy, 7.3.2002
Place of burial: Petach Tikva "Segula" cemetery
Age at time of death: 18
Survived by: Parents and sisters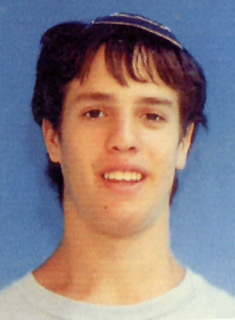 Tal was born in Jerusalem during the Simchat Torah holiday. He was a middle child – with an older sister Yael and younger sister Rivka. At the age of three, his family moved to Kiriat Hertzog in Bnei Brak. Tal attended the Uziel elementary school and later the Kiriat Hertzog junior high. At 9th grade he started attending the Netiv Meir religious boys' high school in Jerusalem. However, after a year of studying there, he returned to the Kiriat Hertzog yeshiva in Bnei Brak. During his high-school years he chose the course of study of biology.
Tal was a non-conformist, he was original in his thoughts, behavior and world view. He was humane and moderate and a proud Zionist. While he firmly believed in Israel's right to defend itself, he spoke against the slogan "Death to Arabs."
Tal was a person of principles and ideals. As such, he was revolted by the phenomenon of youth evading army service. Following his high-school graduation, he studied at Otzem, the Atzmona religious pre-military academy, preparing himself for his enlistment. During his studies, his investigative nature asserted itself. He delved into emuna studies, and found special interest in Rabbi Solovetchik's books. He studied gemorrah, and studied Messilat Yesharim several times. He jotted down numerous notes to himself on the sides of pages in his books.
While still at Otzem, he went through examinations to get accepted for pilot's course. He planned on undergoing the trial period for selection for elite army units, then return to Otzem for another year of study, joining the pilot course in January 2003.
On Thurday night, March 7, 2002, a terrorist infiltrated the hall of study at the Otzem pre-military academy, shooting every which way. Five students were killed, including Tal, and many injured.
Tal was 18½ at his death. He was survived by his parents and two sisters. He was laid to rest at the Segula cemetery in Petach Tikva. On his tombstone was etched: "He was goodhearted to everyone, pure and honest in his life and death."