Memorial of IDF casualties and victims of terror attacks of Gush Katif
Daughter of Tali z"l and David
Date of Birth: 4.11.1997
Place of residence: Katif
Place and date of death: Shot by Arab terrorists on the Kissufim road, 2.5.2004
Place of burial: Ashkelon cemetery
Age at time of death: 6
Survived by: her father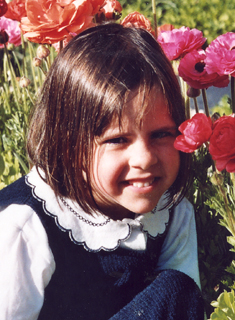 Roni Sarah was born in Ashkelon, a third duaghter to Tali and David Hatuel, a sister to Hila Esther, Hadar Simcha and Merav Rachel. She was raised in the community of Katif, in Gush Katif and attended the Atzmona elementary school for girls.
Roni was a pure child. Her teachers tell how in morning Shachrit prayers in class, she would concentrate deeply in prayer. The Sages say that the innocent prayers of children reach the Throne of Glory.
On Sunday, the 2nd of May, 2004, in the early noon, Tali Hatuel and her four daughters drove in the family car on their way from Gush Katif to the center of the country to take part in a demonstration against the Disengagement Plan, which was being voted on that day in a Likud referendum. As they exited Gush Katif, two Arab terrorists opened fire at the car. After Tali lost control of the wheel and the car turned over, the terrorists approached the vehicle and shot Tali and her four daughters to death.
Roni was 6½ years old at the time of her death. She was brought to burial in the Ashkelon cemetery alongside her mother and three sisters.
In a booklet published in the Hatuel's memory by the Gush Katif regional council and the Atzmona school where 3 of the girls learned, it was written about her:
"Roni – songs, joy of life, a smile to everyone, love and care of all… Guiding a girl in first grade means raising her, teaching her, educating her. Knowing when to give a hug and a kiss…Roni and I walked hand-in-hand, teacher and Roni. I taught and educated and loved and she listened and loved me back. She's just a little girl – and has already become a legend."