Monument to commemorate the fallen And for the victims of hostilities - Gush Katif
Date of Birth: 5.9.1979
Place of residence: Nisanit
Place and date of death: Killed by a mortar in the Erez industrial area, 11.1.2005
Place of burial: Ashkelon cemetery
Age at time of death: 25
Survived by: a wife, son, parents, brothers and sisters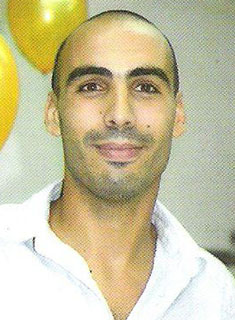 Nisim was raised in Ashkelon. His mother relates that in kindergarten he was "a mischievous child, with a lot of curiosity. He was interested in insects and collected them in a large jar and watched them. This was his secret collection. His love for animals only grew. He'd bring home injured animals and take care of them."
He attended the Rambam state-religious elementary school. Then the family moved, and he attended the Harel school. He was a good student, loved sports class, playing soccer and basketball, and he also learned to play the violin. He attended the Ort-Afridar high-school. Then he, his mother and his brothers moved to Nitzrat-Eilit, where he attended the Yigal Alon high-school. During those years he studied artistic film, and would show his family the pictures he took. He finished his high-school years at the Nehalal agricultural dorm.
Following high-school, he enlisted to the IDF and served at the Erez crossing, securing the crossing.
He met his wife Meital some time after his release, while living n Ashkelon. A few months after their marriage the young couple moved to Nisanit, a community in the northern Gaza Strip. He found employment as a driver for a sewing factory in the industrial area near the Erez border. In October 2002 their son Slav was born. Nisim devoted all his love and energy to his son.
Following the government's decision on unilaterally disengaging from the Gaza Strip, which was decided upon late 2004, the sewing factory where Nisim worked started moving from its Erez premises.
On Sunday, January 2, 2005, only a few days before the factory completed its move, Nisim and his employer were working in the area of the factory when a mortar fell. The two ran for cover, but a second missile fell and Nisim received life-threatening wounds.
Before losing consciousness, he managed to ask for his son to be looked after. He was transferred to hospital. He fought for his life for more than ten days and nights in emergency care, received blood and medication, but to no avail. He passed away on January 11, 2005.
He was 25 when he died. He was survived by his wife and son, parents, brothers and sisters. He was buried in the Ashkelon cemetery.