Date of Birth: 27.6. 1958
Place of residence: Pe'et Sade
Place and date of death: Shot by an Arab terrorist in the Rafiah-Yam hothouses, 12.5.2002
Place of burial: Gush Katif cemetery
Age at time of death: 44
Survived by: a wife, children, parents, a sister and a brother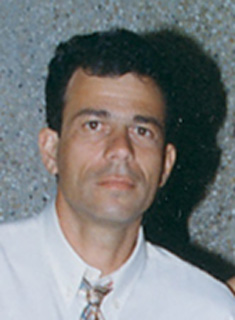 Nisan, son of Rachel and Shlomo, was born in the Israeli city of Holon on the 27th of June, 1958, a brother for Orna and Ron. He was raised and educated in Holon. He attended the Kiriat Sharet elementary school and then for high-school went away to the Kfar Silver dormitory school near Ashkelon.
After completing his high-school education, he enlisted to the navy and served 3 years in the Sharm-A-Sheich area. Nisan loved the sea and took pride in his army service. Following his release, he studied to be an electrician and received certification to be a household electrician. He worked as an electrician in different parts of the country for a number of years. He was among the founders of the Pe'et Sade community in Gush Katif, and he worked there in the local agricultural community.
Nisan was married to Eva and the couple was blessed with Merav, Bella, Micky, Yaniv, Iyar and Eden. They lived in Pe'et Sade and Nisan was a devoted husband and father, always wishing to lend a helping hand. From a young age he was fond of nature; he liked animals and loved the sea and would go fishing. His wife said of him that "if he had the chance to live in a forest or on the seaside with horses and birds – it'd be paradise for him. As good as if he'd won the lotto."
On Sunday, early noon, the 12th of May, 2002, Nisan drove a worker from Gaza, whose first day of work it was, back home. This was because the Gazan claimed he didn't feel well. During their drive, the worker asked to stop in a field, got out of the vehicle and from a hiding spot took out a gun with a silencer. On his return to the car he shot Nisan in the chest three times, killing him.
Nisan was 44 at the time of his death. He was survived by his wife and 6 children, parents, brother and sister. He was buried in the Gush Katif cemetery.
After the Expulsion from Gush Katif (August 2005) Nisan was exhumed from the Gush Katif Cemetery and reburied in the Mavki'im cemetery.