Monument to commemorate the fallen And for the victims of hostilities - Gush Katif
Daughter of Naomi and Zevulon Boneh
Date of Birth: 22.7.1965
Place of residence: Kfar Darom
Place and date of death: killed in the terror attack on the Kfar Darom school bus, 22.11.2000
Place of burial: Ofra cemetery
Age at time of death: 35
Survived by: husband, children, parents, brothers and sisters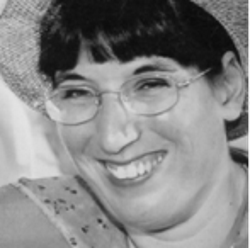 Miriam was born in Rehovot, the oldest of a large family. She had four sisters and two brothers. Her parents taught at the religious Givat Washington educational institute near Kibbutz Yavne where the family lived. Miri and her siblings learned at the local school at the near-by Kibbutz.
Mirir was active in the Bnei Akiva youth movement until the age of 12 when her family moved to the community of Ofra located on the border between the hills of Judea and Samaria. In 7th and 8th grade she attended the Jungeli and Pardes schools in Jerusalem and during her high-school years she attended the Amalia Midrashia. When the Sinai settlement of Yamit was being given away, she left her high-school studies and moved down to Yamit to help in founding the local religious girls' high-school Lehava. Four months later, once Yamit had been given to Egypt, Miri resumed her studies at Amalia.
Miri volunteered for national service and served at Tirat HaYeled in Netanya, an institution for children from distressed homes. Following her service she signed up for Jewish studies at to Ora Institute at Machon Meir. According to the family, this was "part of the religious strengthening she underwent." During these studies she met her future husband, Eliezer (Lazer). She later studied at the Hemdat HaDarom College in Netivot and at the Open University in Tel Aviv. She completed her studies and received her BA in humanities, social sciences and teaching.
Miri and her husband Lazer were among the founders of the city Hadar-Betar (today Betar Eilit). A year later the couple moved to Jerusalem where their two daughters, Hila and Reut, were born. A year later the young family moved to Gush Katif. Miri was a member of the new nucleus for the Kfar Darom community. During this time their son Yair was born. After the community broke ground, their youngest was born: Yirat. From here on the family lived in Kfar Darom.
Miri taught 7th – 9th grade history and geography at the Neve Dekalim religious girls' high-school.
Before hand, she taught nature studies in the Keren Karev framework at an elementary school founded by the Makom Company, and at the Asaf Meimon School in Ashkalon.
Miri loved sport and art. Her home was full of certificates for excellence which she had won in her childhood and pictures she'd drawn over the years. She also loved animals. Throughout the years she had a horse and dogs.
Miri had plenty of good qualities. As her friend Liora said of her: "Miri exemplified three points for me: acknowledging the good, nobleness, and very modest."
On Monday November 20th, 2000 at 07:30 a.m. three Arab terrorists exploded a roadside bomb near a school bus from Kfar Darom. The bus was carrying children, teachers and military escorts from Kfar Darom to Gush Katif schools. 11 people were wounded from the explosion and two were killed – Miri who was on the bus on her way to work at the Neve Dekalim religious girls' high-school, and her neighbor Gabi Biton.
Miri was 35 when she was killed. She was survived by her parents, brothers and sisters, husband and four children. She was brought to rest at the Ofra cemetery.