Memorial of IDF casualties and victims of terror attacks of Gush Katif
Daughter of Tali z"l and David
Date of Birth: 1.11.2001
Place of residence: Katif
Place and date of death: Shot by Arab terrorists on the Kissufim road, 2.5.2004
Place of burial: Ashkelon cemetery
Age at time of death: 2 years old
Survived by: her father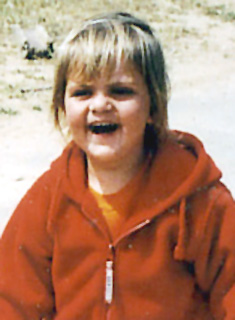 Merav Rachel was born in Ashkelon, a fourth child to Tali and David Hatuel, a younger sister to Hila Esther, Hadar Simcha and Roni Sarah. She was raised in the community of Katif, in Gush Katif.
Young Merav was like a flower, she was so pretty and full of life. She liked to sing and dance and imitate the nursery teacher – "playing" at being an adult. She'd help her mother and curl up in her father's arms.
On Sunday, the 2nd of May, 2004, in the early noon, Tali Hatuel and her four daughters drove in the family car on their way from Gush Katif to the center of the country to take part in a demonstration against the Disengagement Plan, which was being voted on that day in a Likud referendum. As they exited Gush Katif, two Arab terrorists opened fire at the car. After Tali lost control of the wheel and the car turned over, the terrorists approached the vehicle and shot Tali and her four daughters to death.
Merav was 2½ years old at the time of her death. She was buried in the Ashkelon cemetery alongside her mother and three sisters.
In a booklet published in the Hatuel's memory by the Gush Katif regional council and the Atzmona school where 3 of the girls learned, it was written about her:
"Merav – 'many waters', charming and energetic… in the morning you'd arrive at the nursery early, full of joy… you loved singing and dancing, playing with the musical instruments. That's how we'll remember you, sweet Merav, innocent and charming, energetic and joyful."