Memorial of IDF casualties and victims of terror attacks of Gush Katif
Date of birth: 27.7.1981
Place of residence: Netzer Hazani
Place and date of death: the highway south of Kfar Darom on 21.11.2000
Place of burial: Kadima cemetery
Age at time of death: 19
Survived by: parents, 6 brothers and sisters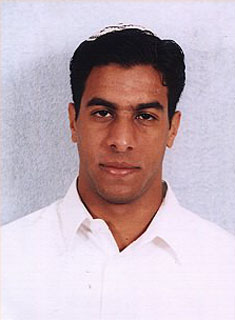 Itamar, son of Rachel and Binyamin Yefet was born on the 27th of July, 1981 in Netzer Hazani, Gush Katif. He attended the local Na'ot Katif elementary school in Neve Dekalim and continued on to high school at the Kfar Maimon Yehuda Yeshiva. Itamar was an exceptional athlete, an excellent basketball player and his favorite hobby was surfing.
Itamar was scheduled to enlist in the IDF in March, 2001. He had been accepted to elite commando units and was impatiently waiting for the start of the elite Duvdevan Unit's trial period for the selection for the unit. In the time remaining until his enlistment he studied at the Neve Dekalim Hesder Yeshiva.
Several months before his murder, Itamar strengthened himself religiously and sought a greater purpose in his life. He studied Sefer Kohelet (Book of Ecclesiastes) with great enthusiasm, as if he had discovered a buried treasure. Itamar reached a clear and unequivocal conclusion that life in this world serves as preparation for the world to come. The Torah and God's commandments instruct us how to live life properly in this world.
On the 21st of November, 2000), one day after the infamous attack on the Kfar Darom school bus in which two Kfar Darom residents were murdered, Itamar traveled to Kfar Darom to assist in reinforcing the community's fence. Unbeknownst to him, an Arab sniper hid among the prickly-pear cacti alongside the road south of Kfar Darom, next to a building known to the residents of Gush Katif as "The White House." The sniper shot and killed Itamar.
Itamar was 19 years old at the time of his death and is survived by his parents and six brothers and sisters. He was buried in the Moshav Kadima cemetery.
Itamar's family writes "we believe that Itamar, along with all of the others who have died in terror attacks during this war, are the advocates for the Jewish People, and we hope that soon the redemption of Israel will come."
Itamar is memorialized by lectures given to youth on Sefer Kohelet; a Sefer Torah was written in his memory and his mother runs a charity which lends table cloths, vases and other artifacts for special events.