Memorial of IDF casualties and victims of terror attacks of Gush Katif
Daughter of Chasiba and Chaim Elchayani
Date of Birth: 4.7.1960
Place of residence: Netzer Hazani
Place and date of death: shot by Arab terrorists on the Kissufim road, 27.11.2001
Place of burial: Arad cemetery
Age at time of death: 41
Survived by: husband, children, mother, sisters and brothers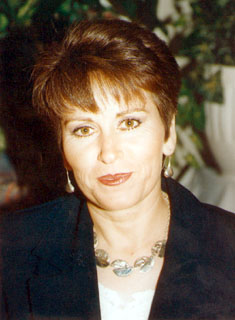 Esther was born in Morocco in 1960 to a large family: she had five brothers and seven sisters. The family made aliya in 1963. Esther was raised in Arad. She attended the Oferim and Telalim schools, and then attended the Beit Bluma high-school in Petach Tikva. She then studied to become a kindergarten teacher at the Hemdat HaDarom College in Netivot. Esther married Gavriel Pachima. The couple was blessed with Itai, Tamir, Rotem and Yochai. The family lived in Netzer Hazani, Gush Katif. During the years, Esther was employed as a kindergarten teacher in Ashdod, in Gush Katif, in Ofakim, in Netivot and in Netzarim.
Esther was a dedicated wife and wonderful mother. She was known for her ability to "spread light" around her, to love unconditionally. She had a passion for life, and people loved her and wished to be near her. She was a person of principles. People said of her that she was had a shining personality, and that they drew strength from her even during her times of trouble. She was always willing to lend a helping hand.
Esther loved the Land, and believed that the State of Israel belongs to the Jewish nation. She considered her educational profession to be one of shlichus. Even though her work demanded that at times she drive in dangerous areas, she didn't consider curtailing her movements. The children she educated – in her home and outside – were important to her. She always said they aren't to blame for the security situation; rather the adults.
On Tuesday afternoon, November 27th, 2001 Esther was making her way to Be'er Sheva to make a bride and groom happy on their wedding day. Her car was first in a convoy of four cars and a bus. At the Kissufim junction, near Gush Katif, an Arab terrorist opened fire at her car and threw hand grenades. Esther was wounded from the gun fire, her condition was critical and shortly after she died on the spot.
She was 41 at the time of her death. She was survived by her husband, daughter and three sons, mother and siblings. She was brought to burial at the Arad cemetery.
The family published a book in memory of Esther, in which are written many of the eulogies and stories shared by her many friends.