Memorial of IDF casualties and victims of terror attacks of Gush Katif
Date of Birth: 15.2.1983
Place of residence: Jerusalem
Place and date of death: Killed by Arab terrorists infiltrating the Atzmona Pre-Military Yeshiva-Academy, 7.3.2002
Place of burial: Har Menuchot cemetery, Jerusalem
Age at time of death: 19
Survived by: Parents, brothers and a sister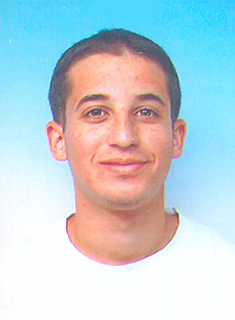 Eran was born in Paris, France. He was a brother for Tzuriel, Yoav and Noah. His family made aliya to Israel when Eran was 2 months old.
Eran was raised and educated in Jerusalem. He first attended the Horev elementary school and then the Himelpharb religious high-school. He was a happy, well-loved child. During his youth he was active in the Bnei Akiva youth movement, and he was a counselor in summer camps for Jews from Ethiopia.
Eran was known for his developed sense of humor. He had a talent for funny impersonations. He loved sports and was excellent at soccer. He was on his high-school's soccer team and participated in competitions and representational games.
Eran was well-read and was a smart and clever youth. He was enlisted for a special unit in the IDF. Prior to his army service, he wished to increase his understanding of Judaism, so he decided to study at Otzem, the religious pre-military academy in Atzmona, Gush Katif.
On Thursday night, March 7, 2002, a Hamas terrorist infiltrated the academy's buildings, shooting and throwing hand grenades. Some 30 people were injured that night, and 5 of the academy's students were killed including Eran. He was injured by gun shots and died from his wounds shortly after.
Eran was 19 when he was killed. He was survived by his parents, 2 brothers and a sister.
On Friday, before Shabbat came in, a large and pained crowd escorted Eran to his final resting place at the Givat Shaul cemetery, Jerusalem.