Son of Zahava and Shmuel Shorshan
Date of Birth: 19.5.1962
Place of residence: Kfar Darom
Place and date of death: Dir El-Balah intersection north of Kfar Darom on 1.1.1992
Place of burial: Holon Cemetery
Age at time of death: 29
Survived by: Mother, a wife, four children, and two sisters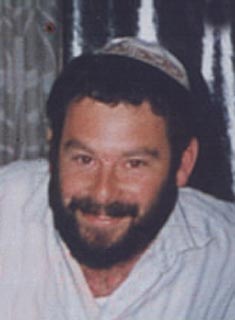 Doron Shorshan, son of Shmuel and Zahava Shorshan, was born in Petah Tikva on May 19th , 1962. He grew up in Petah Tikva and attended high school in Kfar HaYarok. At the age of 16 took on a religious way of life, left Kfar HaYarok and transferred to the Machon Meir Yeshiva in Jerusalem where he immersed himself in Jewish studies. After one year of learning, he joined Moshav Keshet in the Golan Heights where he combined Jewish studies and agricultural work, an occupation close to his heart.
In the IDF, he served in the Golani Brigade: as a combat soldier, a squad commander and a medic. The 1982 Lebanon War broke out at the beginning of his army service and consequently he spent most of his army days in Lebanon. He was known to be an excellent soldier and exceptional medic in his unit. During the third year of his military service, Doron married Sheila Rachel, whom he had met before enlisting in the IDF. The newlywed couple lived in Jerusalem.
Following his release from the army, he studied in the Ateret Cohanim Yeshiva in Jerusalem and worked for Magen David Adom as an ambulance driver. For the next three years Doron and Sheila worked with a group of twelve children in State care in Jerusalem, taking responsibility for the children's education and maintaining a warm and protective home for them.
While they lived in Jerusalem, the Shorshans had three children of their own, Avichai, Tal, and Hadar. During this time Doron completed his matriculation (Bagrut) exams and studied communications at the Ma'aleh School of Television, Film and the Arts in Jerusalem.
 After several years, Doron and Sheila decided to make their home in Kfar Darom, Gush Katif. They brought with them one of the girls who had been in their care and adopted her.
In Kfar Darom, Doron worked in agriculture, his great love. He grew tomatoes for export as well as insect-free vegetables. Every year, he increased the number of his greenhouses. He was accustomed to leave to work early each morning and return home in the evening. Sometimes he would return home in the afternoon in order to take his young children for a ride on his off-road-vehicle or take them to work with him in the greenhouses.
On the 1st of January, 1992 as Doron returned from his greenhouses, a terrorist waited in ambush at the Dir El-Balah intersection just north of Kfar Darom and shot him to death. Doron was 29 years old at the time of his death. He was laid to rest in the Holon Cemetery. He was survived by his mother, two sisters, his pregnant wife and three children. Seven months after his death Sheila gave birth to a son, named after his father, Yair Doron. Sheila, together with author Adina Amitai and illustrator Kristina Kadmon, wrote a children's book in his memory, Doron Ve HaTraktoron (Doron and the Off-Road-Vehicle). The book, in clear, straightforward language, tells the reader about Doron and the void he left behind, likewise about how his family coped with the bereavement, the pain and the questions his murder raised.