Memorial of IDF casualties and victims of terror attacks of Gush Katif
Date of Birth: 18.4.1951
Place of residence: Rafiah Yam
Place and date of death: Killed by Arab terrorists in the Gush Katif Sewing shop, 6.11.2002
Place of burial: Ashkelon cemetery
Age at time of death: 51
Survived by: a wife, children, grandchildren, brothers and a sister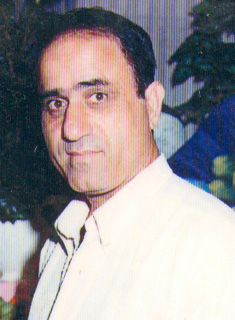 Amos, son of Julia and David, was born in Tripoli, Lube; a brother for Saul, Nisim, Esther and Tony. The family made aliya when he was 2 months old. His mother had to hide him in her stomach region and claim to still be pregnant, because infants weren't allowed on the plane. Already then, his mother relates, Amos' shy and quiet nature was evident; he didn't make a noise the entire flight, allowing his family to exit Lube and make it to Israel.
Amos enlisted to the IDF in 1969 following his studies. After serving the mandatory service, he signed up for permanent service and became camp commander of artillery base 500. During his service he fought in the Yom Kippur War and the First Lebanon War. Afterwards he established the North Gaza army brigade. He passed the First Intifada there. In 1991 he was discharged at the level of Warrant Officer after 22 years of loyal service.
During his army service, in 1984, Amos moved to the Gush Katif community of Rafiah Yam together with his wife Esther and his children Ayelet, Dudi, Chen and Julie. In the upcoming years, Aviran and Sharon were added to the family. Amos was the family's backbone; a husband and father who constantly took care of everyone, who could be depended upon.
Amos was among the founders of Rafiah Yam and was active in all the various stages of the founding of the community. As time passed, he became independent, built hothouses and opened a successful restaurant. After Arabs burnt the restaurant down, Amos went back to managing his hothouses and eventually also opened a sewing workshop.
Amos was known as a very shy and modest man. He loved helping everyone, was always socially involved, and helped promote the community. He never hurt anyone; he took great care of his workers and would even provide them with medicine for their children. He didn't have any enemies. Everyone loved and praised him.
On Wednesday morning, November 6th, 2002, nearly 08:00 a.m. there was a warning that terrorists were planning an attack. The IDF didn't alert the employers, but did ask them to keep all their workers assembled. Amos had just reached his office in the textile factory, when an Arab terrorist entered the sewing shop and called out his name. When Amos raised his head, the terrorist fired three shots at him. Amos died on the spot.
A short time earlier the terrorist had killed Asaf Tzfira, a resident of the Gush Katif community of Bdolach. A few minutes later, the terrorist was shot dead by a security officer at the place.
Amos was 51 at the time of his death. He was survived by his wife and 6 children, grandchildren, brothers and sister. He was buried in the Ashkelon cemetery.