Aharon Mordechai (Arik) Krugliack
Son of  Miriam and Ya'acov
Date of Birth: 28.8.1983
Place of residence: Beit El
Place and date of death: Killed by Arab terrorists infiltrating the Atzmona Pre-Military Yeshiva-Academy, 7.3.2002
Place of burial: Beit El cemetery
Age at time of death: 18
Survived by: Parents and brothers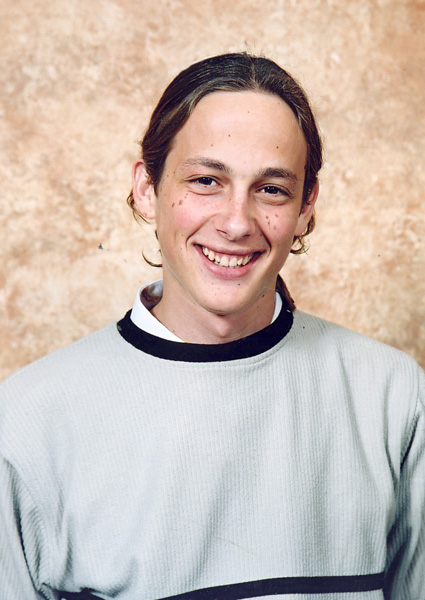 Arik was born in Jerusalem, the third son in a family that had made aliya from Russia during the large Russian aliya in the 70s. His family had adapted well into Israeli society. Arik had several siblings: Eliezer, Ben-Zion, Yehonaton and Daniel.
The family moved to Beit El when Arik was small, and he was raised and educated there. He attended the community's state-religious elementary school. Arik was a shy and gentle child, and as the years passed, he matured into a charming youth, the center of every group. He was known for his smile and joy of life.
Arik attended the Netiv Meir religious high-school in Jerusalem. In 10th grade he completed a first aid course, and started volunteering in Jerusalem's Magen David Adom. As time passed, he was appointed shift manager, and many youngsters remember him from that role. Arik was present at several terrorist attacks in Jerusalem; he helped rescue wounded people, and there are numerous first-hand accounts of people who owe him their life.
After graduating high-school, Arik decided to study a year at the Otzem pre-military academy to help formulate his world view and work on his character before enlisting. Like everywhere, here too, his smile, joy of life and serenity were prominent features.
On Thursday night, March 7, 2002, an armed terrorist infiltrated the academy's grounds. He noticed a small structure with an open window and music streaming from inside. The terrorist threw a hand grenade through the window and continued to the Hall of Study. Inside the room, in which he'd thrown a grenade, fire broke out and two students were injured. Arik was burnt entirely, and his body was later identified by DNA. His friend in the room, Eran Pikar was also mortally injured and died later that night. Three additional students were killed from the terrorist's gunfire.
Arik was 18½ when he was killed. He was survived by his parents and 4 brothers. He was laid to rest at the Beit El cemetery.
"He didn't achieve much during his short life," wrote Arik's parents "but what he did achieve was full of kindness to others, full of good will, youthful power and the desire to live. He's part of this Land, part of the suffering with which Israel is purchased, part of the Jewish nation fighting for its existence in this impossible land. We pray that his death won't be in vain."