Memorial of IDF casualties and victims of terror attacks of Gush Katif
Son of Rachel and Eliyahu
Date of Birth: 8.3.1984
Place of residence: Neve Dekalim
Place and date of death: Killed by Arab terrorists infiltration the Morage army outpost, 23.9.2004
Place of burial: Gush Katif Cemetery
Age at time of death : 20
Survived by Parents, brothers and sisters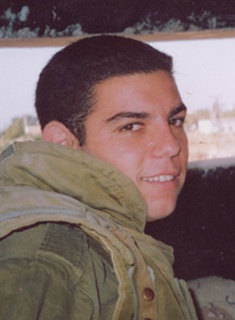 Yisrael's family moved to the Gush Katif community of Neve Dekalim when he was 7 years old. He attended the local Neot Katif elementary and junior high, and then attended the Kfar Mimon religious high-school. He volunteered in the Netivot branch of Magen David Adom in his free time. He was a dedicated volunteer, always asking to help, and would even spend his vacations at the Hof Aza security center.
After completing his Yeshiva high-school studies, he enlisted to the Givati brigade in the IDF (25.11.2002). His main reason for doing so was because he wanted to protect his home, and the Givati brigade "sat" in the Gaza Strip.
Some 10 days before he fell, Yisrael had an accident in the army and had terrible pain. He refused to take sick leave, knowing that some other soldier would have to remain in the base instead of him. Yisrael was willing to sacrifice his soul for another Jew, for the nation, for the Land. His entire life was built upon helping others and doing charity.
Yisrael was loved by all, got on with everyone, loved peace and made peace, and was a good listener.
On September 23, 2004, after a year and ten months of dedicated service, first sergeant Yisrael Lutati fell at the Morag outpost. He was twenty years old. He was buried in the Gush Katif cemetery. Yisrael was survived by his parents, four sisters, brother in law Amnon, and neice Shai, who was a month old.
His father, Eli, wrote about him: "we think that in his death, Yisrael commanded us and the entire nation, to give. One should give charity, and also give of oneself for the Land of Israel. This characterized Yisrael."
A plot of forest was planted in his memory by Yehuda Shushan, head of the Negev branch of Magen David Adom, in participation with JNF southern region, on Tu B'Shvat 2005.
After the Expulsion from Gush Katif (August 2005) Yisrael was exhumed from the Gush Katif Cemetery and reburied in the military section of the Nitzan Cemetery.