Memorial of IDF casualties and victims of terror attacks of Gush Katif
Date of Birth: 1942
Place of residence: Midreshet HaDarom
Place and date of death: killed by Arab terrorists near Morag, 12.3.1993
Place of burial: Ofakim cemetery
Age at time of death: 51
Survived by: brothers, sisters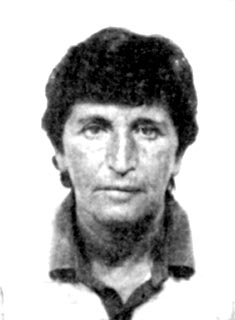 Simcha was born in Persia in 1942. In 1950 she made aliya with her parents, four brothers and two sisters. The family settled in the Moshav of Patish in the Negev. When she completed her national service, Simcha moved to Ofakim. From 1968 Simcha worked with the Gush Katif communities; every day she would bring Arab workers from the Gaza Strip for agricultural work inside Gush Katif. In 1992 she moved to Midreshet HaDarom, Gush Katif, and continued her work in transporting local Arab workers.
Simcha had a large soul in a small body. She was a proud Jew, living among Arabs to make a livelihood but didn't for a moment consider getting closer to Islam. She loved the Midreshet HaDarom people she lived among, and would give charity in secret; she gave boxes of agriculture produce to Jewish and Arab families in need.
On Friday morning, the 12th of March, 1993 Simcha collected the Arab women from Han Yunis for agricultural work. Among them, three terrorists got into the vehicle disguised as women. Inside the vehicle, in front of the workers, the three beat and stabbed Simcha to death and escaped. It was discovered during the investigation that many workers had been warned not to show up for work that day, so there'd be space for the terrorists.
Simcha was 51 at the time of her death. She left behind brothers and sisters. She was buried in the Ofakim cemetery.
Some 3 months after she was killed, her family donated a Sefer Torah to the Midreshet HaDarom synagogue in her honor. A year after her death her friends and relatives published a booklet Ora VeSimcha of rabbinical texts on happiness.
The director of Midreshet HaDarom wrote: "I sit here today and try to think of Simcha's characteristics. I see a woman of purity, honesty, and happiness. Her happiness influenced everyone around her and radiated life, work ethics, and love of the land. And just as the living water influences the impure, so Simcha influenced all around her and elevated them up up."