Daughter of Gohara and Amos Machluf
Date of Birth: 31.8.1968
Place of residence: Nisanit
Place and date of death: Killed when Arab terrorists infiltrated the community, 30.9.2004
Place of burial: Ashkelon cemetery
Age at time of death: 36
Survived by: a husband, children, mother, brothers and sisters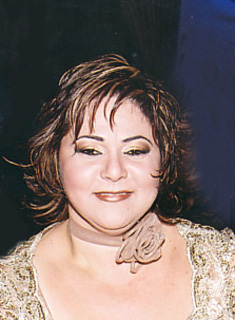 Shulamit (Shula) was born and raised in the Shimshon neighborhood of Ashkelon. She was her parents' youngest child – with 2 brothers and 5 sisters born before her. Her father passed away when she was 4 years old.
Shula attended the Ashkelon elementary school named after Ben Tzvi, and later she attended the city's Ort high-school. Shula was a happy girl, who smiled a lot, liked sports, excelled in swimming, and participated in local sport competitions organized by the Maccabbi club.
When she was 14 she met Eli Betito, who was to be her future husband. The couple was among the first to reside to Nisanit, in the northern Gaza Strip. Their two sons, Ma'ayan and Snir, were born in Nisanit.
Shula was employed in the Nisanit nursery from 1992 until her death. She was known and loved in the community and outside of it for her dedicated work, her social involvement, her volunteering in the local youth center. Several years after she moved to Nisanit, she studied literature and hair-dressing, and opened a hair salon in her patio. She worked in this in the afternoons, after the nursery was closed for the day.
On Thursday morning, the holiday of Succot, September 30, 2004, Shula went as usual for a morning walk, and planned to visit her husband who was a life guard at the beach. Near her house, two terrorists were waiting, planning a large scale attack, and Shula "ruined" their plans. They shot and killed her on the spot. They also managed to kill an IDF soldiers before being taken down, when it was discovered that one of them had an explosive belt on him.
Shula was 36 at the time of death. She was survived by her husband, two sons, mother, brother and sisters. She was laid to rest in the Ashkelon cemetery.