Memorial of IDF casualties and victims of terror attacks of Gush Katif
Date of Birth: 19.9.1974
Place of residence: Netzer Hazani
Place and date of death: killed during an IDF operation in Lebanon, 5.9.1997
Place of burial: Gush Katif cemetery of Neve Dekalim
Age at time of death: 23
Survived by: parents, brothers and sisters
After the Expulsion from Gush Katif (August 2005) Yohanon was exhumed from the Gush Katif Cemetery and reburied in the military section of the Nitzan Cemetery.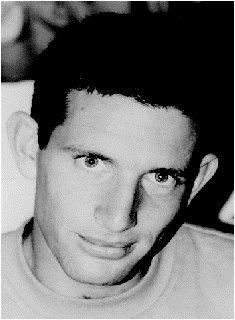 Yohanan was the second son born to his parents who had made aliya from the U.S. two years before he was born in order to start a family in Israel, and raise their children according to Jewish and Zionist ideals. When Yohanan as one year old the family moved to Kiriat Arba and four years later settled in the moshav of Netzer Hazani, Gush Katif. Yohanon suffered from intestinal health problems, but by the age of three he outgrew them and became a healthy, mischievous boy.
In Netzer Hazani Yohanan first discovered the sea. It was love from first sight. He felt like a fish in water, and would hurry to the sea every chance he got. He attended the local Neot Katif elementary school until 8th grade, and then attended the Or Etzion high-school Yeshiva at Mircaz Shapira. After his high-school graduation Yohanan spent a year at the Beit Yetir pre-military academy. He studied holy subjects as well as navigation and reading maps. During his school years Yohanon had been a counselor in the Bnei Akiva youth movement and hiked a lot. This taught him the prettiest and most interesting hiking trips.
When it came time to enlist, Yohanan was invited to different units but his love of the sea determined him to try to pass the trial period prior to selection for elite army units for the Shaldag unit. In August 1993 he enlisted to the IDF. Despite his slim frame, due to his intense will power, he successfully navigated the trial period and became part of the elite unit. His army commanders and friends considered him an exceptional pupil due to his self-possession, inner calm, friendliness and kindness which were mentioned in the end-of-track book. When he started to command, he was greatly admired – not because of any show of force – because of his patience and sensitivity.
The IDF flotilla commander writes: "many youth wish to volunteer to this unit. The best of them begin the training program. Few of them finish the difficult track. Out of that excellent group of fighters, Yohanan was the best of the best. He was one of the best of the best because he believed a bit more than anyone. He believed with all his heart and all his being in the fulfillment of the Zionist entity which his family endeavored. That faith, without the justifications of self-defense and protecting the State and its citizens, he got with his mother's milk and his father's stories about serving in the marines, in Vietnam. This combination of Zionism and battle heritage which he brought from home created in him a unique fighter; professional, industrious and a good friend. Friendship and helping others were an internal command he didn't hesitate about."
During his service, Yohanan met his girlfriend Chen. They'd meet up on his vacations and hike together. He sent her letters, telling her of his experiences and that he missed her. He dreamed of continuing to travel around Israel and the world after his release from the army.
On Tuesday, Septemeber 5th, 1997 Sergeant Major Yohanan fell in Lebanon when he and 11 other IDF soldiers were injured from a roadside bomb on their way to a military operation. He was almost 23 at the time of his death. With him fell: Lieutenant-Colonel Yossi Korkin, Major Dr. Mahr Dagesh, Major Dr. Yitzhak Bentuv, Captain Tzvi Grossman, Captain Rom Levins, Sergeant-Major Raz Tvi, Sergeant Major Itamar Ileyah, Sergeant Major Arieh Abramzon, First Sergeant Guy Golan, First Sergeant Gal Rodobsky and First Sergeant Yaniv Shamiel.
Yohanan was survived by his parents, his brother Meir and his sisters: Chana, Shifra, Neta and Tzvi and his girlfriend Chen. His family and friends published a book in his memory. Additionally, there is annual tradition of a torch race every Chanuka – the "Yohanon Hilberg Run." Moreover, Netzer Hazani established a youth center in his memory.