Memorial of IDF casualties and victims of terror attacks of Gush Katif
Date of Birth: 26.6.1981
Place of residence: Neve Dekalim
Place and date of death: Killed on the Kissufim road in the attempt to take down an Arab terrorist, 9.3.2002
Place of burial: Gush Katif cemetery
Age at time of death: 21
Survived by: Parents, sisters and brothers
After the Expulsion from Gush Katif (August 2005) Elkana was exhumed from the Gush Katif Cemetery and reburied in the Mt. Herzl Cemetery, Jerusalem.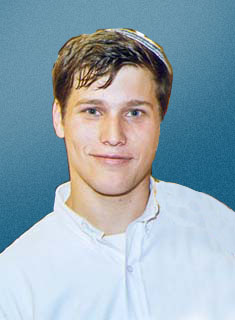 Elakana was born in Israel, a fourth child to his parents Miriam and Moshe Gobi. He was a handsome boy, with golden curls and very big and cheerful blue eyes. He was raised in Kfar Achim until the age of 2, when his family moved to Neve Dekalim, Gush Katif which was still being established. Elkana was an exuberant child, always running around finding what to do, and surrounded by many friends. He attended the Neot Katif elementary school, and excelled there. After eight years of education, and many certificates of excellence, he attended four years of high-school at the Sha'alavim Yeshiva. In eleventh grade he took up biology and studied bee-keeping.
He was his father's right-hand man, and helped him put up shelves, plaster and other household repair jobs. His quiet work and great precision were his signature trademark. During his studies, he participated in the Neve Dekalim Bnei Akiva youth movement – first as a member of the youth group and later as a counselor. "For 2½ years you gave of yourself to us," said those who had him as a counselor. ""You were dedicated, had values. We received love and support from you."
After his high-school studies, Elkana decided to continue to a Hesder Yeshiva, and enrolled at the Sederot Yeshiva. He specifically chose to learn in development town in order to help strengthen the place. He mingled with the residents, and formed close ties with them. In the mornings, before classes, he would do shopping for needy elderly residents, and he was responsible for the community's eiruv every Friday. Additionally, together with a friend, he cofounded a charity in the Yeshiva known as UVeLechtecha BaDerech.
In April 2001, a year and a half after being in Yeshiva, Elkana enlisted to the IDF. He chose combat service, and was placed after training, toward the end of 2001, as look-out man in the duvdevon unit in Judea in Sameria, just as he wished. Elkana put all his energy into his army service, and left a deep impression on anyone he met.
On the 9th of March, 2002, Elkana fell doing battle with terrorists. He was posthumously awarded for his initiative, level headedness, determination and bravery by Major-General Doron Almog, head of the southern command. The citation describing the terror attack said: "while Elkana was on vacation and was driving on the Kissufim road with his two brothers, he identified a terrorist who opened fire at civilian cars on the road. Elkana parked his car on the side, took up a position and opened fire at the terrorist who fled. A force from the Strip noticed Elkana lying and shooting, in civilian clothes, mistakenly thought him to be the terrorist, and ran over him, killing him. Elkana, in his actions, is an example to soldier and civilian – with his sense of responsibility, determination and courage. Tragically, he paid for it with his life."
Elkana was 21 at the time of his death. Following his death he was elevated to the rank of Major. He was buried in the military section of the Gush Katif cemetery. He was survived by his parents, 2 sisters and 4 brothers.
The Sederot Yeshiva where he studied has erected a hall in his memory. His family has published the book Lechtecha Acharei BaMidbar. Also, the Pesach Haggadda Minchat Asher with Rabbi Asher Weiss' commentary includes essays in memory of Elkana featuring different chapters of his life.
After the Expulsion from Gush Katif (August 2005) Elkana was exhumed from the Gush Katif Cemetery and reburied in the Mt. Herzl Military Cemetery, Jerusalem.