Date of Birth: 1944
Place of residence: Ashkelon
Place and date of death: killed by Arab workers who were building his Nisanit house, 28.3.1993
Place of burial: Ashkelon cemetery
Age at time of death: 49
Survived by: a wife an daughters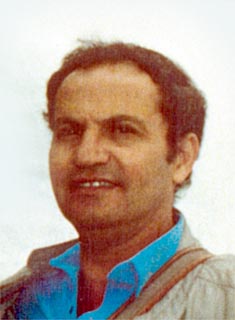 Yehuda was born in 1944 in Tripoli, Libiya. He made aliyah with his parents and 7 brothers and sisters in 1948 when he was 4 years old. The family settled in Ashkelon and Yehuda attended the local Uziel elementary school, and later the Ort high-school.
He did his military service in the Golani Unit. After his release, he worked for the Mekorot Company in the Sinai. In 1969 he married Mazal and the couple was blessed with 3 daughters: Vered, Hadas and Dana. Yehuda was full of life and surrounded his family with warmth and love.
He took a management course at the Tadmor Hotel, and completed studies in building technologies. Additionally, he learned graphic arts at American Institutions. He was manager of French Vacation Village in Ashkelon for five years. From 1980 he worked as a building contractor.
Despite the long hours and the energy he put into his work, Yehuda always found time for his hobbies: reading, painting and sculpture. He was dedicated and industrious. During the years, he used to employ Arab workers and he always kept on good terms with them. They were loyal to him, and often showed their appreciation.
    In 1990 he started to build his dream house in Nisanit. In this, as in everything else, Yehuda was the strong, supporting pillar of the family.
          On the afternoon of March 28th, 1993 Yehuda drove from his Ashkelon home to his new home in Nisanit. Arab workers, whom he'd randomly gathered from the Erez crossing to work on his house, fell upon him and after a difficult struggle, knifed him and fled.
          These terrorists, members of the PLO, were caught a month later and given a life sentence.
          Yehuda was 49 when he was killed. He was buried in the Ashkelon cemetery.
 His wife and daughters feel their loss and promise to remember him forever.