Son of Miriam and Avraham
Date of Birth: 21.1.1966
Place of residence: Kfar Darom
Place and date of death: killed in the terror attack on the Kfar Darom school bus, 22.11.2000
Place of burial: Yerucham cemetery
Age at time of death: 34
Survived by: wife, children, parents, brothers and sisters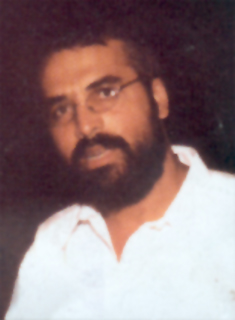 Gabi was born in Be'er Sheva and raised in Yerucham with his brothers Ya'acov, Tomer and Yisrael and his sister Aliza. He attended the Eli Cohen elementary school in Yerucham, the Ohel Shlomo high-school in Be'er Sheva and the Yamit Yeshiva in Gush Katif.
Gabi did his army service in the Tzabar unit in the Givati brigade. Following his release, he was among the founders of the Kfar Darom community in Gush Katif. He and his wife Avigail moved there after their marriage, even though at the time very few families were living there. He worked in building the community's houses, and was very connected to the community.
He later found employment at a tomato packaging house and as a kashrut (religious dietary laws) inspector at the Hof Dekalim hotel. He later worked at carpentry and learned carpentry in Ashkelon. From 1998, after qualifying as a carpenter, he was employed as handyman at the Gush Katif school.
Gabi and Avigail were blessed with six children: Elyashiv, Tamar, Noam, Oriya, Shilo and Adi-Penina. Gabi loved his fellow man; he was very hospitable and did a lot of charity work. His favorite hobby, besides carpentry which became his trade, was singing – in the style of North African Jewry. He had a special voice and poetic talent, and during the Days of Awe he would serve as cantor in the community.
On Monday, the 20th of November, 2000 at 07:30 a.m. three Arab terrorists exploded a roadside bomb near a school bus from Kfar Darom. The bus was carrying children, teachers and military escorts from Kfar Darom to Gush Katif schools. 11 people were wounded from the explosion and two were killed: Gabi Biton and Miri Amitai.
Gabi was 34 at the time of his death. He was survived by his parents and siblings, his wife and six children – who are determined to continue his special way of life.