Commemoration of Fallen Defense and Security Forces of Israel
Date of birth: 6 Tevet, December 22, 1963.
Place of residence: Kfar Darom.
Place and date of death: Murdered by terrorists on the Trans-Yehuda Road, west of Hebron on November 23, 1993.
Place of burial: Cemetery on Mount of Beatitudes in Jerusalem
Survived by: parents, a wife, children, brothers & sisters.
Age at time of death:30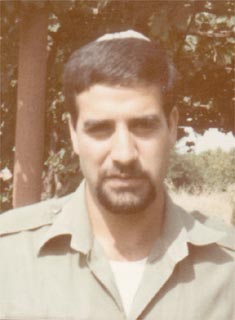 Efraim was raised in the Moshav of Zerachia. He married Yemima, and they and their four children lived in Kfar Darom. They started their path in Gush Katif in "Mitzpe Atzmona among the nucleus of families that founded Kfar Darom. Eventually Mitzpe Atzmona became the community of Slav." Efraim had a hothouse where he grew cherry tomatoes. Additionally, from 1984 he served as chauffer to Rabbi Haim Drukman, a leader of the settler movement.
Sunday morning, November 7th, 1993 Efraim was driving Rabbi Drukman to a study sessionS with Rabbi Valdman. On their way, near the moshav of Telem, an Arab car passed them and fired at them automatic fire. Efraim was killed on the spot and Rabbi Drukman was wounded.
Efraim was 30 at the time of his death. He was buried in Jerusalem. He was survived by a pregnant wife and four children. His fifth child was born five months after his murder and named after him Avichai Efraim.