Memorial of IDF casualties and victims of terror attacks of Gush Katif
daughter of Yehudit and Dan
Date of Birth: 21.11.1971
Place of residence: Ganei Tal
Place and date of death: Murdered by terrorist gunfire on the Kisufim road, 18.2.2002
Place of burial: Buried at the Gush Katif cemetery
Age at time of death: 30
Survived by: Parents, husband, two children, sister and brothers.
After the Expulsion from Gush Katif (August 2005) Ahuva Amergi was exhumed from the Gush Katif Cemetery and reburied in the Mount of Olives Cemetery in Jerusalem.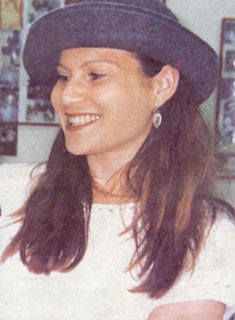 Ahuva, daughter of Yehudit and Meir Dan Davidovitz, sister to Sarah, Eliezer, David and Ariel, was born in Tiberius on the 21st of November, 1971. She grew up in Moshav Beit Meir, west of Jerusalem and attended the Moshav's Kadima elementary school, and later the Horev girls' high school in Jerusalem.
Ahuva "discovered" Ganei Tal during her National Service, as well as met her future husband, and determined to stay there. After completing National Service, Ahuva studied law at Bar Ilan University in Ramat Gan and was accredited a lawyer. Ahuva married Rafi Amergi and the couple had two sons, Yitzhak and Ephraim. The family lived in Ganei Tal in Gush Katif and she worked in the Avitan Malchiel law firm in Be'er Sheva, and the Bergman Hergil law firm in Ashkelon. Her colleagues recall Ahuva as an extremely responsible person, very dedicated to her work, and say that it was always a pleasure to work with her.
Ahuva was a good, sensitive person. She had many hobbies, including creative writing. She loved writing poems, and was very adept at it. As a young girl she wrote a poem to encourage her sister:
"Spread your lips wide
Let white teeth shine
Something will rise inside you
That will quiet all turmoil and anger
The wise adopt this as their method
Thus quickly gaining friends
Make this a habit and lifestyle
Use it to solve problems and difficulties
This is a good way, try it now…
It is not hard and costs nothing
Think not that this is dissembling
It is the elixir of life, and you are all the more beautiful for it.."
On Monday, February 18, 2002 while Ahuva was drivng home from Netivot in her car, a Palestinian terrorist opened fire from an ambush close to the Kissufim Junction. Several bullets hit Ahuva and she was killed instantly. IDF soldiers from a nearby army outpost heard the shots and rushed to the spot. Two of them, Major Mor Elraz and Staff Sergeant Amir Mansouri, were killed during the battle before the terrorist was killed
When Ahuva was 14 years old, 16 years before the terrorist killed her, she wrote:
One who sees children's fear
In a bus with shattered windows
Will not shout "Don't react"
He won't be able to keep silent.
A person who has heard, who has understood, who has seen
Will not object, not hold back
Not say "Enough revenge"
And keep the pain, without speaking
Because he understands that the pain is silence
And will bite his lips
But even when the pain is too great to bear
Reaction must follow!
Six months after Ahuva was murdered, her brother Eliezer married his chosen bride. An optimistic poem written by Ahuva was printed on the wedding invitation:
The wave that succeeds in breaking the way
Through the difficulties, the darkness and cold
Will shine and shimmer and sparkle a thousand times brighter
And spread happiness and light all around.