Commemorating the Fallen and Victims of Terror from the Northern Shomron
Son of Sa'eeda and Sa'adya
Danny was a resident of Homesh, killed in a terrorist shooting attack on the Shvei Shomron – Homesh road on June 8, 2001.
He was 35 at his death.
He left behind his mother, a wife, three children, brothers and a sister.
He was laid to rest in the Bnei Ayish cemetery.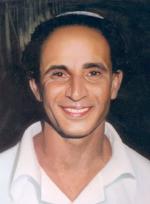 Danny, son of Sa'eeda and Sa'adya, was born in Bnei Ayish, a moshav near Gedera on January 5, 1966. He was the fourth child in a family that had made aliya from Yemen (in Operation Magic Carpet – 1952), a brother to Ya'acov, Ezra, Zehava and Yeni. He attended the Bnei Ayish elementary school, and later the religious section of the agricultural Mikve Israel high school. From a young age, Danny was seen to be an especially alert person. "He was mischievous, but in a good way – very sweet," said his mom. Even though there wasn't a kindergarten in Bnei Ayish in those days, Danny wasn't bored. He played with the neighborhood children, with his brothers and his cousins. He began school together with his cousins who were his age. "From the beginning, Danny was an excellent student," his mother says. "His report cards were always marked 'very good'." His sister adds: "He really was a good student, but he wasn't a nerd– he liked doing all sorts of tricks." Danny was always first; he would decide what to do and where to go. He had a huge number of friends that he'd accumulated throughout his life, and the girls were always fond of him. "He had a look that you couldn't withstand: smiling eyes, a captivating smile… a brilliant mind, he was especially sensitive and had a heart of gold," says one of Danny's counselor's from Mikve Israel, whom, like the other girls there, students and teachers, loved him from the beginning.
In the middle of his third academic year at Mikve Israel, Danny decided to leave his studies. He spent the time until he enlisted into the IDF working, going on trips and enjoying Tel Aviv. "He filled our lives with amazing, unforgettable experiences – the most fun person we knew," his friends say. During this period, just as when he was a student, he continued visiting his sister Zehava in Homesh, where he would take nature trips and visit the Arab villages in the Shomron. There too, like everywhere, Danny had many friends, and not just friends of 'ahalan and sahalan' but real friends, who invited him into their home and told him what was troubling them. Danny enlisted into the IDF, to the paratroopers. Very quickly he became crazy about the paratroopers. He fought in Operation Peace for Galilee, and quickly advanced on the command ladder. He became a squad commander and was appointed – toward the end of his service – to sergeant major of the Reserve Brigade Camp in Beit Daras. As a sergeant major, he was characterized by the same qualities that had defined him as an ordinary soldier: on the one hand, a good friend, on the other hand, he was dedicated to the role and strict "up to the very last detail". He was respected and loved by his commanders and subordinates alike. In November 1987, Danny was released from the army and started working as an agent for car replacement parts. He didn't want to stay in this job, he had big ambitions in life and wanted to leave a mark. In 1990 he started working in insurance, and within a few years owned Dan Insurance with several branches throughout the country. Danny's professional development was fast because he was talented and determined, however it was difficult: Danny was sensitive, humane and vulnerable, and took to heart each refusal and door slamming in his face.
After years in which Danny starred among his friends and countless girls followed him, he met Sigal Talker (Sigi), and it was love from first sight. "I have a feeling I've found what I've been looking for," he told his friend Ori, moments after meeting his future wife. About a year after the two met, a year in which they worked together, Danny closed his offices and started working as sales manager of the Na'alei Dafna company. A few months later, the two bought a caravan and lived in Danny's parents' backyard. "It was the most beautiful period – a fierce love and financial stability," Sigi says. In the beginning of 1995, Danny and Sigi purchased their future home in Homesh in the Shomron. Four months later, Danny's father passed away, and for him it marked the end of his innocence. In February 1996, Danny and Sigi got married in a modest ceremony at the mother's home in Bnei Ayish. Sigi: "Danny was still in his year of mourning – it wasn't the time to have a big party. Maybe it was how we were as a couple; despite being always surrounded, at the core we were only for ourselves". In July 1996, Danny and Sigi settled into their new home in Homesh. Half a year later, their oldest son, Shalev, was born. In the middle of 1998, their son Shoval was born, and in the beginning of 2000, their son Yogev was born. From the moment he first became a father, Danny completely changed his priorities. He was a dedicated father, giving all his love to his wife and children. " I never saw such a father," said his mother-in-law. "He would gaze at his children for hours and constantly hug and kiss them." For some time, Danny once again was an agent for car replacement parts, but he never abandoned his plans, and simultaneously with his job he started increasing his businesses. Initially, he did marketing in Yehuda and Shomron, and networked with the local regional councils. He worked as a cleaning contractor, and later became a successful building and renovation contractor. "Even though he wasn't a professional in the industry – Danny knew how to move things along. He was very trustworthy and connected with people easily," the family says. Danny was a family man, a man with numerous friends, a man of ideas and action. He was beloved, and doors opened for him.
Due to the Intifada, Danny and his family planned on leaving Homesh and the Shomron roads which had become dangerous. They had begun with the necessary process, as though they knew what was going to happen, but didn't complete it in time. Danny used to drive on the Shomron roads with a helmet and bulletproof vest, and in the beginning of June 2001 this saved him during a shooting attack on the Shechem bypass road. But on the disastrous day, perhaps because of the cease fire agreement, he thought there was no need of this. On Monday afternoon, June 18, 2001, Danny and his neighbor-assistant, 17 years-old Alex Briskin, were in Danny's car on their way to Homesh from the community of Shvei-Shomron. Near Shechem, a yellow Mercedes taxi with Arab license plates bypassed them slowly. Two terrorists sat in the taxi, who must have wanted to see how many people were in the car and who they were. A few moments later, the terrorists turned the taxi around, toward Danny and Alex, and started shooting at them bursts of gunfire. Alex was injured and Danny was killed on the spot. The terrorists went over to their car to make sure that they'd succeeded; Alex pretended to be dead and succeeded in saving his life. Then the two terrorists continued driving and disappeared into the areas under Arab control. Half a year later, the IDF took out one of Danny's murderers.
Danny was 35 at the time of his death. He left behind a wife and three sons, a mother, brothers and a sister. He was laid to rest at the Bnei Ayish cemetery. Sigi, his wife, published a memorial book for him "Danny Yehuda – where are there other people like this man? " The book was written by Mirit Shem-Or and described Danny's life through word and many photos, and his many friends and family members said goodbye to him. Sigi wrote: "Dear man, there is not a day or night that passes without thinking of you. Every small thing reminds me of you. The children constantly remember the experiences we went through together. It warms my heart but also breaks it. My heart aches seeing how the children miss you. We try to derive comfort from having been part of your short life, it must have been a huge merit for me and the children… we will continue to embrace your love very close to our hearts. This love will strengthen us and empower us in the difficult times".