Commemorating the Fallen and Victims of Terror from the Northern Shomron
Boris was born on September 26, 1941 and lived in Homesh.
He was killed in a terror attack on June 11, 2001 which took place in the Shomron region.
He was laid to rest in the Netanya Shikun Vatikim Cemetery.
He left behind a wife, daughter and son, grandchildren, and two brothers.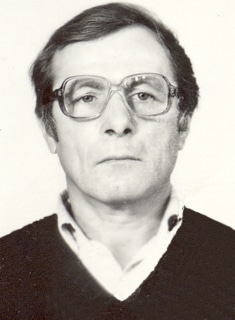 Boris, son of Bella and Solomon, was born in Ukraine on September 26, 1941, a brother to Ya'akov and Iliya. During WWII, after the Nazis invaded Ukraine, the family moved to Nizhny, Russia, and later returned to Ukraine.
After finishing high-school, Boris continued his studies in the Leningrad Technological Institute and completed a master's degree in electrical engineering. He then worked in his field.
Boris married Nina, and the couple were blessed with a daughter, Victoria, and a son, Igor. Boris was a proud Jew throughout his life in the USSR and raised his children to be so also.
In July 1992, after several rejections, the authorities approved the family's request to make aliya to Israel. The family arrived at Einav in the Shomron, and Boris immediately began to study Hebrew in the community ulpan. Simultaneously, he worked in non-professional jobs, but after passing a course and receiving certification as an electrician he started working in his profession in the Laniado factory in Kibbutz Einat.
Some time later, the family moved to Homesh in the Shomron. Boris loved the place, and even when terrorists started to harass them daily, he didn't consider leaving. "He had a new daily routine," a community friend of his said. "On Monday, he tried to get home early and call in to the Israel Absorption Radio and give voice to beleaguered Israel. On Wednesday the same thing, only this time to Arutz 7 Radio. And this way, without us knowing, we had a spokesperson. Humble, anonymous, not one who pushed himself forward so that he would be seen or heard, simply one that the love of the nation and the land were great in his heart, and he had to cry out and call…".
On Monday, June 11, 2001, Boris was killed in a car crash on the road from Shvei Shomron to Homesh, which had been caused intentionally by a terrorist.
He was 59 years old. Boris was laid to rest in the Netanya cemetery. He left behind a wife, daughter, son, grandchildren and two brothers. His daughter Victoria eulogized him: "My dear father guided me in life, time after time, word after word, conversation after conversation. My father, who lit up the path of my life, left me with a huge load of ideas, doubts, opinions – and there is no one to tell me 'Don't fear, follow your truth'.
"Everything I wrote here is a letter of thanks to my father for being a great and brave man, a smart and strong man, an honest and kindhearted man. And each word in my letter is gratitude to God for meriting to live with my father for 27 wonderful years…".
"We remember your first day in this land," eulogized a friend to Boris. "How you came with your family straight from the airport to the ulpan in Einav, and how you were content with the simple caravan which we were able to give you. We stood and wondered at your love for this nation and this land which you'd never known, but which you loved as though it had always been yours…".